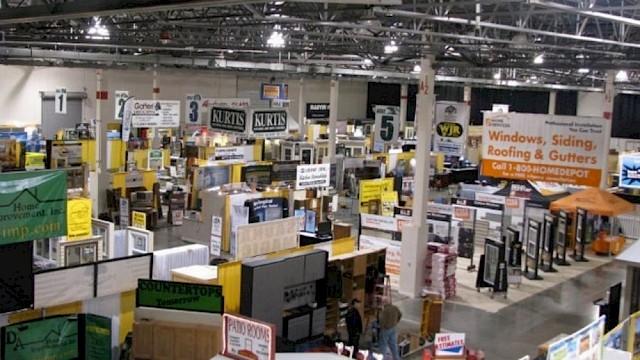 Well, the home show season is upon us. The Novi Home Improvement Show a couple of weekends ago was quite the reminder as to exactly how much work goes into these shows from a vendor side of things. The entire staff of Advanced Water Treatment views these shows as not only an opportunity to reconnect with current customers, meet future customers and learn from other vendors but to entertain the little ones attending the event. As Carli, Jason and I stood there in our booth blowing up hundreds of "Thunder Sticks" I think we all lost track of time. We quickly realized we were all having fun…way too much fun…just talking about water, while entertaining children and adults with our unique giveaways. I think after our cheeks were stretched out and none of us could blow up any more noise makers we all stood there and said WOW…..there were literally hundreds of kids walking around with these things. Totally worth it! At times I think we all forgot that we were there to work. Everyone was having fun. It became less about getting leads and making money, but more about helping people solve their water problems. There didn't need to be a "lead card" attached or a hard selling pushy salesman approach…more of an olive branch to say, "We are here to help!" Today, tomorrow, next week or next year…Call us!
First off, I would like to send out a huge thank you to all of the current customers that took time out of their day to stop by and say hi and comment on how much they enjoy the work we have done for them. We had many customers from South Lyon, Hartland, Howell, and Brighton stopping by to comment on the well water treatment systems that we have done for them as far back as 25 years ago. The success of the show in my mind is truly gauged not by how many "leads" you get or how many "deals" you close, but by how many people you help. We aren't dealing with a new deck, a pest control product or new window treatment. We are dealing with water, the one and only necessity that every living thing needs to survive. A product that not only myself, but the entire staff at Advanced Water Treatment take very seriously. We all live and bleed water treatment. I think each and every one of the people that stopped by our booth could see the passion that we put into our day there.
We had many inquiries about some of our city water products and our remineralization filters, due to the growing health issues associated with chlorine, fluoride and reverse osmosis water. Our exclusive city water softeners have been used for years on water in communities such as Fenton, Linden, and Hartland. They are growing in popularity due to water concerns in cities such as Novi, Rochester, Troy and Farmington who were thought to have had safe water up until now. A lot of these new concerns can be attributed to the difficulties that arose in Flint recently.
One question that is becoming more and more common, is whether or not reverse osmosis water is the best water for us to drink. I mean, we remove everything from the water even the good stuff like calcium and magnesium, leaving slightly acidic water to be consumed. We now have a solution for this particular concern. We utilize a remineralization cartridge after the reverse osmosis in order to add the good minerals back to the water. So, you end up with PH balanced, great tasting water. If you read a Dasani bottle of water it says "purified water enhanced with minerals", meaning they purify the water then add minerals back to it. Don't you truly deserve the bottled water quality out of your tap at your faucet and not an acidic replica? The banter back and forth out about R.O. water can go on for weeks. We at Advanced Water are here to provide you with a variety of options to meet your water quality goals, not to provide you with a boxed solution. Everyone's water is different. Everyone's taste is different. Everyone's water consumption is different. We are wholeheartedly committed to taking all of these factors into account when helping YOU choose the best water treatment equipment possible to suit YOUR individual needs.
So, whether you are looking to treat your rusty, smelly well water….or looking to polish up your city water, rest assured, Advanced Water Treatment has the solution for whatever your needs are. We have serviced cities such as Howell, Brighton, Hartland, South Lyon, Linden, Fenton….and many more for almost 40 years and are very familiar with the variety of water chemistry around southeastern Michigan.
The entire staff at Advanced Water Treatment would like to extend a thank you to our current customers and to all of our future ones as well. We look forward to seeing each and every one of you for years to come at these shows and we appreciate your continued referrals and support!