Evolve EVR Water Softener
Eco-Friendly, Less Is More Design.
The Benefits Of Water Efficient Technology (W.E.T.) Technology
Our advanced EVR water softener goes above and beyond to refine the water for your home.
Its high capacity resin media and patented self-chlorinating feature combine to deliver a high level of water quality. The patented technology monitors your systems and allows a precise level of chlorine to pass through the media bed with each regeneration to keep your unit clean. The EVR features our exclusive Water Efficient Technology® which fine-tunes the water and salt used to regenerate the media reducing waste. It's also capable of connecting wirelessly with Wripli® for complete control of your water while you're on the go.
The system is designed to be environmentally-friendly while safeguarding your household plumbing, appliances, skin, hair, and laundry. The result is more brilliant water through better science, which saves you time and money.
Every component, feature, and innovation of the Evolve Series® EVR unit has been designed to bring the most efficient, highest quality water to you and your family. They have been tested and certified for compliance with NSF/ANSI 44.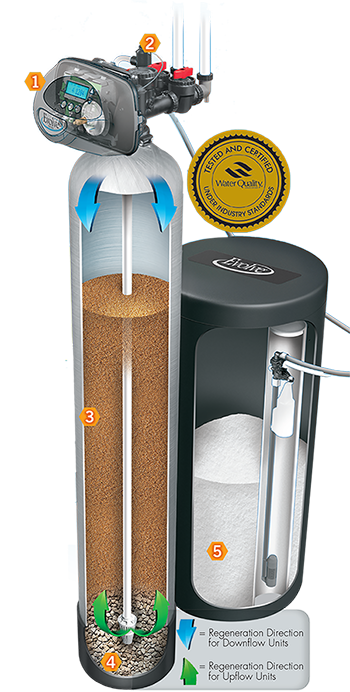 HIGH PERFORMANCE WATER TREATMENT
2. Patented Chlorine Generator
Equipped with W.E.T. (optional)
Wripli Enabled (optional)
3. High-Performance Resin
5. Low-Maintenance Brine Tank
Download Product Literature
As your professional Evolve Series dealer
we can help you pinpoint your specific water problems and customize the system that's perfect for your individual household needs.