Reverse Osmosis Products for Your Home or Business
The Benefits Of Reverse Osmosis
Residential Reverse Osmosis Systems
What is a Reverse Osmosis System?
Reverse osmosis systems use a special membrane-based water filtration method that prevents large molecules and ions, such as sands and salts, from passing into your drinking water.
With Reverse Osmosis Systems, you enjoy all of the following:
Reverse Osmosis is an effective mechanical water treatment process for reducing 95% to 99% of the dissolved mineral salts, organics and particles by forcing the water, under pressure, through a semi-permeable membrane. TDS (Total Dissolved Solids) is the typical use for reverse osmosis along with pre-treatment for Deionization.
The Recovery rate (% feed water converted to product water) is normally in the 50% to 75% range. Low-energy membranes are used which allows for smaller high-pressure pumps, thus reducing energy use. Pre-treatment is usually required to remove turbidity (multi-layer filter), chlorine (carbon filter) and hardness (water softener) should these contaminants be in the water supply. Post-treatment systems along with atmospheric storage and repressurization systems are also available.
Reverse Osmosis System Pre-Requirements: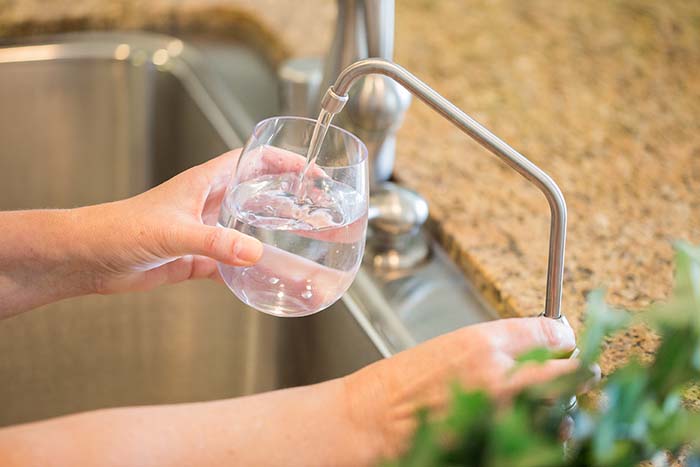 As your professional Evolve Series dealer
we can help you pinpoint your specific water problems and customize the system that's perfect for your individual household needs.
We recommend the following Evolve® Products
With easy to change cartridges, the Clear Flo makes brilliant water a convenient part of your every day life. These systems are designed to deliver up to 100 gallons of water every day. So every time you go to the faucet, you're assured healthier, fresher water.
UltroWater drinking water systems deliver convenient, healthier water right to your faucet eliminating the need to purchase bottled water. With easy to change cartridges, UltroWater systems are the simple solution for high quality drinking water. UltroWater is NSF/ANSI Standard 58 certified for reducing contaminants including lead, arsenic, copper, cyst, and chromium.